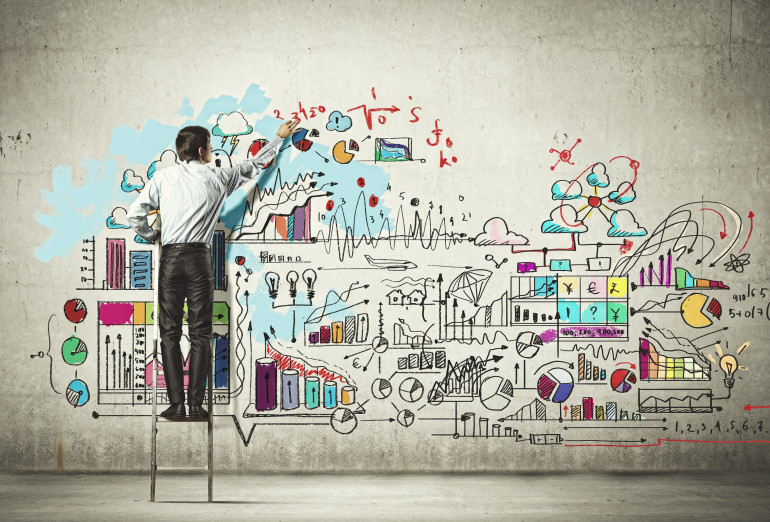 Projects are all around us, both formal & informal. I have engaged in a project management speciality on Coursera starting with Fundamentals of Project Planning and Management with Yael Grushka-Cockayne from University of Virginia. With the aim to learn more about properly managing projects, here is a few learning which I took from the course.
What is a project? 
A unique set of activities to product a defined outcome within an established time frame using a specific allocation of resources
– Harvard Business Review
Project Definition:
First consider what is the goal – then outline the three main objectives:
Define the constrained objective and find where we can optimise, where can we compromise. For example the budget might fixed so that is constrained, we will need to optimise the scope and compromise the timeframe.
Reasons for failure:
Little or no planning: no clear goal, scope or estimated timeline
Lack of leadership and commitment by stakeholders
Lack of training on new technology
No lesson learned from historical projects
Lack of product manager training
Biases: optimism, suck costs, confirmation
Measuring Success: 
Deliver a initial set of deliverables
Does the outcome, at completion satisfy the customer
On time?
On budget, under budget, how much?
Considering the Organisation & Stakeholders
Who will be doing the work?
Who is the product manger?
Who is paying for the project
Who will consume the product / service
Who are those effected by the the project?
Steps to take:
Identify Stakeholders
Gather Information
Indentify stakeholders mission
Determine Strengths and weaknesses (FUNNY: SWAT Analysis description from Silicon Valley)
Predict Stakeholder Behaviour
Implement Stakeholder Management Strategy
Stakeholder interest / Power Grid: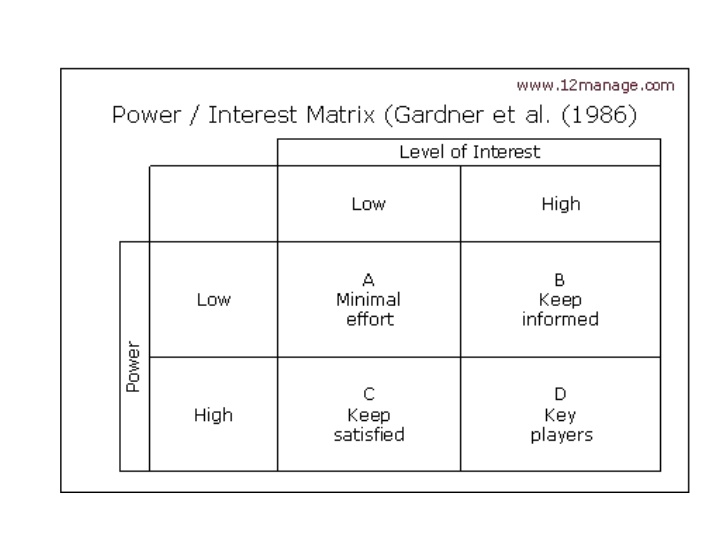 Source: Slideshare Stakeholder Analysis (Freeman, 1983)
Project Life Cycle
Initiate:
Establish organisation
Project charter and definition
Plan:
Identify scope
Identify tasks dependency and schedule
Plan resources
Clarify trade offs and decision making principles
Develop a risk management plan
Execute: 
Monitor
Communicate and report
Correct and control
Close:
Sign off
Conduct a formal postmortem
Why Plan?
An (action) plan is:
Statement of intentions  ≠  a commitment (is not)
Not a straightjacket
Should be revised often
Should anticipate the need to be flexible
Beacons the basis for executive time management
Work breakdown structure tips:
Use stick notes, blackboard
Team development
Use automated tools – MS Project / WBS Pro
Detail down to no less than 5-10% of the total duration of a single resource
Scheduling
As soon as possible – cost more, benefits time
As late as possible – delays commitment of costs & resources until we must use them, costs in the future are cheaper.
Network Diagrams
Utilise Network Diagrams to assist in the visualisation of task lengths and to visually see the critical path. Adding in earliest and latest start / finish times can help see the critical path.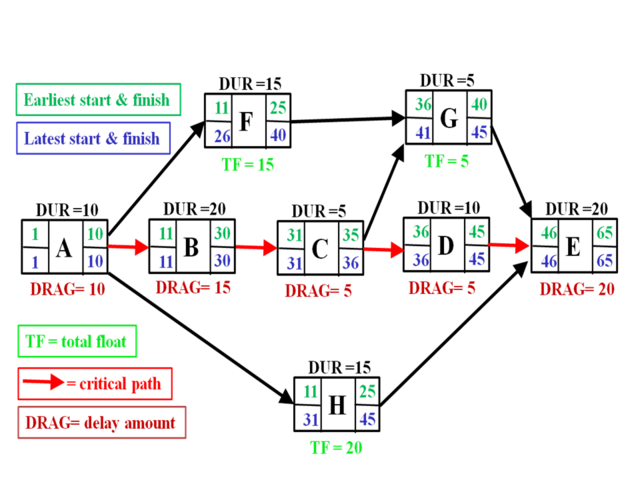 Source: stackexchange
The longest path in the project / network
The project duration defined by the length of the critical path, also known as the makespan
A delay in any activity along the critical path will cause a delay in the project
The method was developed by engineers at DuPont corporation in the 1950's
Estimating time 
Potential problems:
Parkinson's Law – says that if we give someone a task duration, they will take that long.
Students Syndrome – people will wait until the last moment to start the project
Overconfidence – Often underestimate
Biases:
– Anchoring  (adapt to time estimated by someone else)
– Confirmation (agree with time stated)
Plan Checklist:
WBS (Work Breakdown Structure)
Available, Complete? Communicated Agreed-Upon?
Network Diagram
One start and one finish
All activities with predecessors or successors?
Milestones
One start milestone and one project competition milestone
Intermediate milestones each one has a critical path?
Gantt-chart
No missing dependencies between activities in correct sequence
No summary task links
Task's with excessive durations?
Check dependancies (overlaps, time lags)
Check critical path: from project start to finish?
Planning wrap up:
Project planning is a crucial for project success
A project plan is a guide, not a schedule of what will exactly happen
Follow the project planning cycle
Make sure the goal of the project is clear to you
Ensure the project scope is complete (most crucial part of planning)
Estimate the activity durations
Decide who owns each activity
Know which are the critical activities (critical ≠ important) not equal
Prevent conflicts between activities
Project can be accelerated by crashing and / or fast-tracking
Project Crashing
Project duration can be reduced only by shortening critical activities
Might be worth spending money to reduce the length of the project

Select least expensive to crash

New critical paths may emerge
Critical path
Short
May Change
More activities become critical
Higher Risk
Reducing Scope – Eliminate activities
Unnecessary
Reduce functionality
Cut corners
Outsource
Common Planning Mistakes:
No work breakdown structure
No task durations set or inaccurate
No network diagram
Tasks without predecessors / successors
Fixed start dates to mimic dependancies
No dependancies defined between activities in correct sequence
Additional dependancies added that are not required
Cost Risk Analysis / Planning for Ambiguity
Cost estimates are subject to variations
Foreseeable risks can cause the actual project to differ from planned
Establish some contingency budget
Budget contingency should be allocated to a project not task level (provides more flexibility for the project manager)
Use a 'Crystal Ball'  to analyse & track timing / budget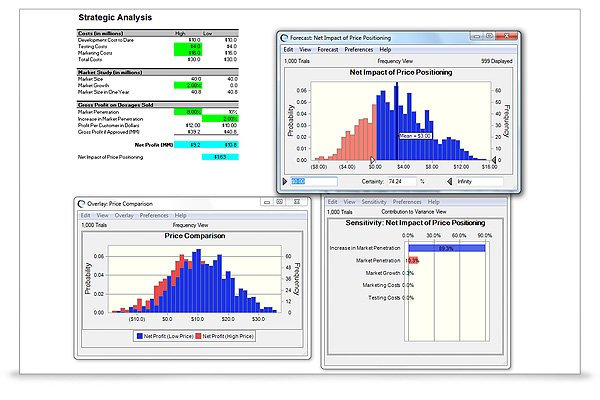 Schedule Scenarios:
Elicit ranges or three point duration estimates
Consider historical data
Ask multiple options
Start thinking of the overall project duration as a range not a single number.
Utilise a
Tornado Diagram
to see potential issues in timelines and where blow outs can occur.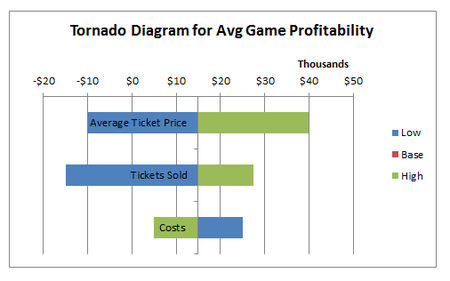 Criticality Index
Probability that an activity is critical
Critical index can prioritise our tasks to ensure our project is completed in the range that it needs to be completed on.
Sources of Uncertainty
Foressable Uncertainties

Variability
Alternative Paths

Complexity

Project Tasks
Stakeholders

Unforeseen Uncertainties

Novel Technology
Novel Markets
(Loch, DeMeyer, Pich 2006)
Risk Management: 
Identification
Brainstorming checklists, previous projects, experts
Risk Register
Assessment:
Impact
Likelihood
Prioritised Risks
Responce Planning:
Identify response strategy to each risk
Assign responsibilities
Monitoring and Control:
Update risk probabilities
Execute planned strategy if events occur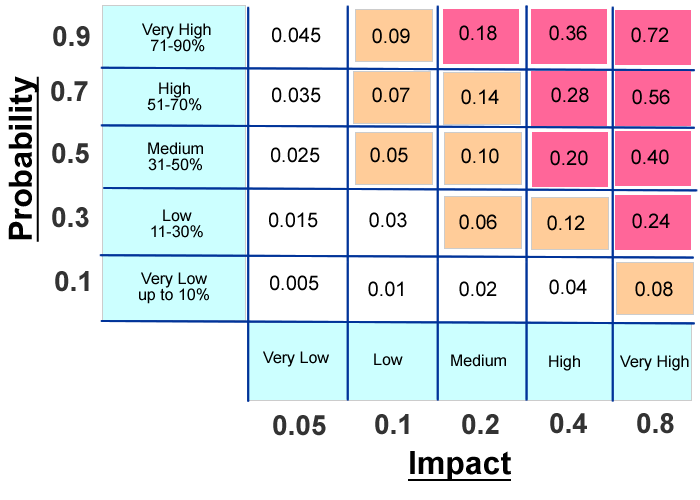 Source: Ruleworks
Why are projects still late / over budget?
Technical factors

Internal complexity (in the firm)
External complexity  (regulations, weather, competitors)

Human Factors:

Multi-tasking
Parkinson's Law
Student Syndrome
Agile, Scrum and Kanban
Why Agile?
Software development firms
Release pace was declining
quality was suffering
Engineer moral
Padding and no accountability
Agile Manifesto:
Individual and interactions over processes and tools
Working software over comprehensive documentation
Customer collaboration over contract negotiation
Responding to change over following a plan
Agile Principles:
Priority to customer satisfaction
Welcoming change
Delivery frequently
Business people & developers work together
Build project around individuals
Effect and effective communication
Agile (Scrum) Team
Cross-functional (programs, test, design)
Members should be committed full time
Self organising team
Kanban:
Continuous flow model with no iterations. Suited for short-cycle deliverables, limiting work in progress.
Benefits to Agile:
Empowered the development team

independence, autonomous, focused team
developers want to deliver a project to the client

Creates join incentive and transparency with the client
Helps firm build the right then the right time and build it right.
Contentions around Agile
A "living in the moment culture"
Less documents
#noestimates movement
Hard to master – requires the right mindset
Can be challenging with distributed teams
Project Execution:
Monitor:
Physical or virtual
Frequency
Project management office
What information will be monitored
Report / Collect:
Frequency?
By Who?
To Who?
Correct / Control:
What decisions will be made
What actions will be taken
Who is in charge of the execution
How will the outcomes be communicated?
Earned value Analysis:
Creative 25% complete, actual cost $500

Scheduled work = 40% (2w/5w)
Actual Work = 25%  (1.25 / 5w)
Budgeted cost = $1,000
Planned value = 40% x 1000 = $400
Earned value = 25% x 1,000 = $250   ($150 variance from above) 
Actual cost = $500 ($250 variance from above) 

Scheduled performance Index (SPI) = Earned value ($250) / planned ($400)  = 63%
Cost performance (CPI) = Earned value ($250) / Actual ($500) = 50%
Thank you for reading. If you interested in taking the course please go to the Fundamentals of Project Planning and Management course page on Coursera
Learnings