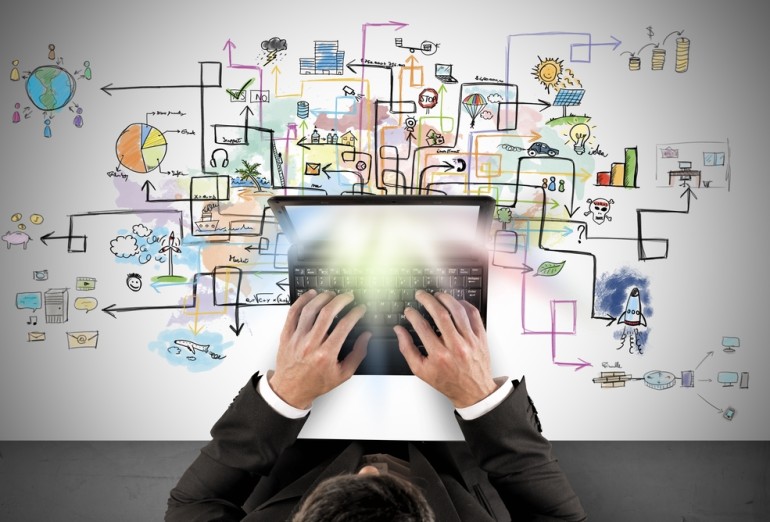 Continuing on with the specialisation on project-management this segment takes me through the key principles of project initiating and planning, which will include mapping stakeholders, the scope of work, and the project Work Breakdown Structure. It covers off similar points from my earlier post on  Fundamentals of Project Planning and Management and goes through things in more detail with a close correlation to the PMBOK (Project Management Body of Knowledge) guide.
What is a project?
A unique and temporary endeavour, with a stated beginning and end. to create (or change) a specific product or service
Constraints – a factor that may place limitations on what you do, when you do it or how you do it.
The guide to the project management body of knowledge (PMBOK guide)  Standardised knowledge on areas and processes of project management.
Three types of matrix organisation:
weak matrix organisation:
functional manager in change
he or she has all the assistance of a project coordinator
the coordinator helps maintain the schedule and status, but doesn't have decision making responsibility.
balanced matrix organisation:
recognition that having project manager assigned will help make sure project success
the project manager has some decision making responsibilities
the project manager manages the team to stay within scope, schedule  and budget
strong matrix organisation:
project manager has much more authority and responsibility, but no complete authority and responsibility
project managers still cannot make all of the decisions
Matrix organisations:
works well when team members are assigned to multiple projects and other work
the project manager will most likely run multiple projects
Projectised Organisation:
project manager is king or queen
the team works on one project
project manager acts as the manager of the team
project manager may write performance appraisals
The PMBOK Guide: 
Developed by Project management institute: (PMI)
are applicable to most projects all the time
have widespread consensus on its applicability and usefulness
can enhance the success of a wide range of different projects
provide a glossary of terms commonly used by project managers.
The triple constraint 
A framework for balancing competing project demands
Time
Money
Quality
Knowledge Areas:
Integration
Human Resources
Scope
Communications
Time
Risk
Cost
Procurement
Quality
Stakeholder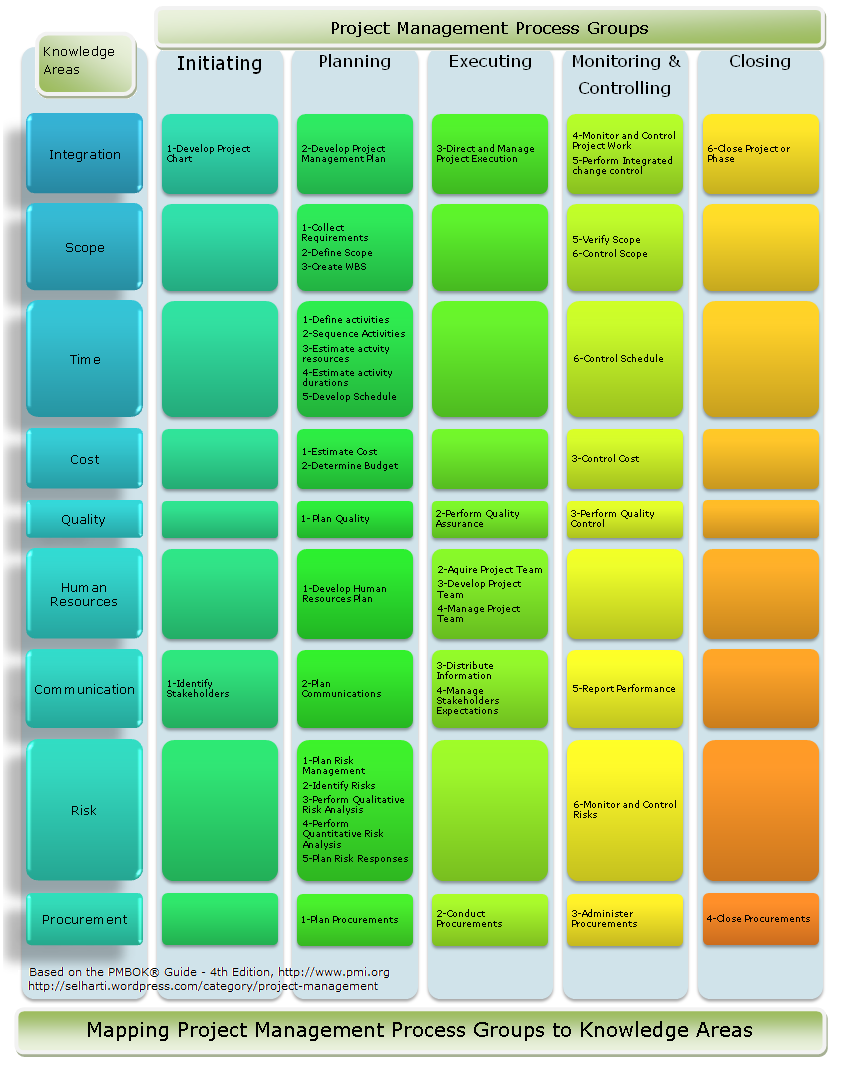 Source: 
project-management-sj.blogspot.com.au
The 5 process groups:
Initiating – two processes, when you get started, you are creating your charter and identifying your stakeholders.
Planning – most of the processes live here, a good plan will make your life so much easier
Executing – the act of doing – actioning each element of the project
Monitoring and Controlling – Measuring, are we meeting the plan
Closing – Not just the end of your project.
To be continued..
Learnings